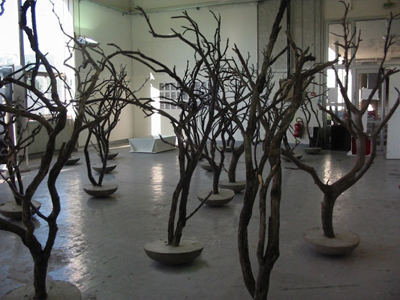 «Culbutos»,
installation, bois, béton, 2003.
Cette pièce est à propos d'interactivité, espace, équilibre.
Le but de cette installation était de créer un espace constitué de plusieurs éléments qui se ressemblent tous, bien que différents, et surtout qui puissent interagir avec le public. Pour traverser cette forêt, on doit entrer en contact avec les branches, ou bien les éviter en se contorsionnant.
This piece is about interactivity, space, balance.
The goal of this installation was to create a space constituted of several elements that look all alike, although different, and especially that can intract with the public. To cross this forest, one must enter in contact with the branches, or to avoid them while contorting themselves.