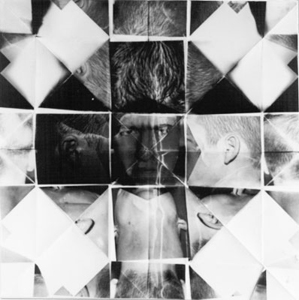 «Cube éclaté»,
tirage photo N/B, 65 x 65cm, 2001.
J'ai replié le papier non-exposé en suivant le modèle origami du cube. J'ai ensuite exposé les six faces du cube ainsi formé avec six photos, chacune l'une des six faces de la tête d'un modèle. Une fois révélée, l'image est présentée dépliée, et l'on peut voire les marques de différents plis. Toutes les faces sont décomposées en triangles, seule reste intacte la face centrale du cube.
I folded the non exposed paper while following the origami model of the cube. I exposed the six sides of the cube thus formed with six photos, each one one of the six faces of the head of a model. Once revealed, the picture is presented unfolded, and one can see the different fold marks. All faces are decomposed in triangles, only remains intact the central face of the cube.