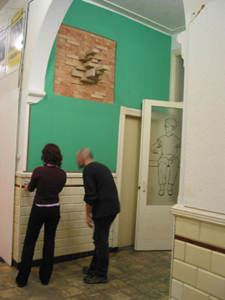 «Benign wall growth»,
installation, briques, tissu, 2003.
Cette excroissance murale composée de briques est entourée par une sorte de champ chirurgical, comme si l'ablation allait bientôt avoir lieu.
Cette installation a été réalisée à l'occasion de l'exposition «Exchange Exhibition» au Het Wilde Weten (Rotterdam).
This wall growth composed of bricks is surrounded by a kind of surgical field, as if the ablation was going to take place soon.
This installation has been achieved for the exhibition «Exchange Exhibition» in the Het Wilde Weten (Rotterdam).